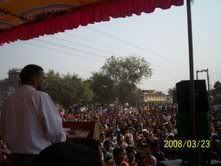 On the last Easter Sunday
In Tikapurr - Nepal
Dear Brother

Jean,
Greeting from

Prince, Thank for your replay. I am interested to help you with your blog news.
I am here

in Western part of Nepal and doing ministry in the Church. We have twelve daughter churches with more then two thousand members. Our church is one of the biggest churches in western part of Nepal. Epically, I am focusing youth and disciple leaders.
I love to

work with you; I can send you our ministry up date and prayer request every month, so you can publish. And also we need your prayer.
Here is the ministry update about Easter.


D
ear Brothers,
Greetings from

Prince and S. Ranie - my wife.
Wishing you a very blessed but belated Easter Sunday. You must have had enjoyed the day. We are doing fine by the grace of our living Lord. Hope, this same goes with you.
On last Easter Sunday,

we had a very blessed time in Tikapurr , far west of Nepa. Early in the morning, we went for procession, proclaiming about Jesus….Jesus has risen for dead. Jesus is the way the truth and the life.
And we did this

program at open ground. Especially our target is to reach the unreach people. Also, we have invited 14 candidates of different political parties, who are going to participate for upcoming election (Constituent Assembly). More than four thousand people were gathering together from different - parts of the local community.
I think, this is

happened first time in Christian history of Nepal .
Every political

party got five minutes to have their speech. They have their own saying about Christianity. They have given great hope for Christianity. I got chance to host that program and able to share my testimony. By the grace of God I did it well as the audience gave feedback later. Many people touched by my testimony.
The imaging

thing is that, this morning one of the key leader of Maoist came to our house and she told us, she want talk with us. I really thank God; he gave us wonderful opportunity to share the Gospel with her. Also I share with her my testimony. Please continually pray for her.
Thank you so

much, God bless you,
In Christ,
M. J. Shah "Prince"
Tikapur Christiya Church

Kailali, Nepal.



Note:


Letter got by brother Joao Cruzue


cruzue@gmail.com


.