New Rules Considered

for Abuse Cases, Vatican Says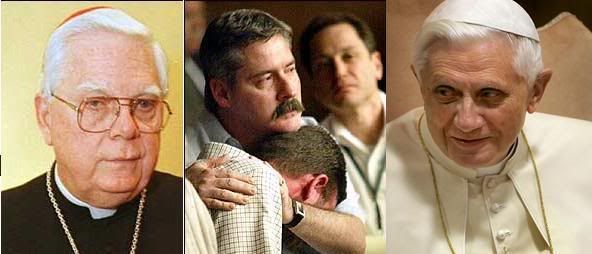 Cardinal Bernard Law - Victim of rape - Pope Benedict XVI


New York Times
by Laurie Goodstein and Katie Zezima
April 19, 2008
"A top Vatican official said on Friday that the Roman Catholic Church is considering changes to the canon laws that govern how the church handles cases of sexual abuse by priests.
The official, Cardinal William Levada, suggested that this was not something that the Vatican planned to make public just yet, but the revelation came one day after Pope Benedict XVI held a private meeting with survivors of clergy abuse during his first trip to the United States.
Far from avoiding the abuse scandal, Benedict has brought it up each day of the first three days of his trip.
Many survivors say they are now waiting for the pope to match his words with actions. They want to see the church do more to prevent priests from abusing children, and hold bishops accountable for keeping abusive priests in ministry.
Cardinal Levada, as head of the Congregation for the Doctrine of the Faith, the position held by Benedict before he became pope, heads the office that decides cases of priests accused of sexual abuse. He spoke today at a luncheon sponsored by Time magazine.
He would not specify which canons were under re-consideration. But he suggested they relate to the church's statute of limitations, saying that his office has frequently had to judge allegations from years ago because the victims "don't feel personally able to come forward until" until they are more mature.
Cardinal Levada discussed the possible changes to canon laws shortly after the pope arrived in New York on the second leg of his trip, a visit that included a speech to the United Nations, a Saturday Mass at St. Patrick's Cathedral and a Mass on Sunday at Yankee Stadium.
The Vatican arranged the meeting Thursday between the pope and five victims of clergy sexual abuse at the request of Cardinal Sean P. O'Malley, an official of the Archdiocese of Boston said Friday.
Disappointed that the pope would not be coming to Boston on his first official visit to the United States, Cardinal O'Malley had been lobbying the Vatican to have the pope meet with victims, said Barbara Thorp, director of the Archdiocese's Office of Healing and Assistance Ministry, which assists victims.
"Cardinal Sean really had a very strong sense of how important it would be for the Holy Father, when he came to the U.S., to meet survivors," Ms. Thorp said. "Finally, in response to the invitation from Cardinal Sean, the Holy See and the Vatican extended invitations to people to meet with him."
It was the Vatican that selected the victims who were invited, said one of those who attended, Bernie McDaid.
"The pope directly wanted an unrehearsed meeting with free dialogue," said Mr. McDaid, a former altar boy from Salem, Mass., who said that, as a child, he was molested by his parish priest, the Rev. Joseph E. Birmingham.
Mr. McDaid said he received a call about two weeks ago from Ms. Thorp and the Rev. John Connolly, who has overseen the Archdiocese's efforts to respond to reports of clergy sexual abuse. The three met for dinner at a Cheesecake Factory restaurant at a mall in Burlington, Mass.
"They said the Vatican wanted me to be one of the people invited," Mr. McDaid said. "I've been waiting seven years. I was ecstatic. I said, 'Let's go.' It was very surreal."
"They said, 'keep it quiet,' and that was it," Mr. McDaid said.
Mr. McDaid spoke to Ms. Thorp and Father Connolly sporadically over the last two weeks, and reconnected with them in Washington.
Mr. McDaid said he and his mother attended the papal Mass on Thursday in Washington.
"I was so emotional when the pope apologized to us" during the Mass, Mr. McDaid said. "I cried, I didn't believe it. That was the turning moment."
Mr. McDaid then went to the home of the papal nuncio, the Vatican's top diplomat in the United States, where he and four other victims met with Pope Benedict; Cardinal O'Malley; Ms. Thorp; Father Connolly; Archbishop Pietro Sambi, the papal nuncio; and other Vatican officials.
Pope Benedict XVI told the United Nations that human rights should be the basis for ending war and poverty".
Article Nytimes
Timeline

: USA Church sex scandal
BBC News
"The main events in the ongoing sex abuse scandal involving the US Roman Catholic Church and in particular the Boston Archdiocese, which has been at the centre of many of the highest-profile accusations.
Cardinal Bernard Law (archive image)
Cardinal Law resigned, accused of covering up sex abuse by priests
1984: Bernard Law is appointed archbishop of Boston, and elevated to cardinal a year later.
1985: Sex abuse by priests becomes a national issue in the US for the first time, as Louisiana priest Gilbert Gauthe pleads guilty to 11 counts of molestation of boys.
1992-3: The Reverend James Porter of Fall River diocese, Massachusetts, is accused of abusing children in five US states in the 1960s and 1970s. He later pleads guilty to 41 counts of abuse.
1992: US bishops meeting in South Bend, Indiana, admit attempts by some of their number to hide abuse.
1993: First legal proceedings brought against Dallas diocese over sex abuse by the priest Rudolph Kos.
13 July, 1998: Dallas diocese forced to pay more than $31m to victims of Kos.
1999: Former Massachusetts priest John Geoghan indicted on child rape charges.
8 January, 2002: Vatican publishes guidelines on how to deal with paedophile priests, saying all cases should be reported to Rome.
Former Massachusetts priest John Geoghan
Geoghan was jailed for 10 years in 2002 - and later killed in prison
9 January: Cardinal Law apologises to victims of John Geoghan and promises a tougher line on abusive priests in future.
18 January: Geoghan convicted of indecent assault and battery of a 10-year-old boy, for which he later receives a 10-year prison sentence.
4 April: Two US men, in Florida and Oregon, begin legal action which symbolically names the Vatican for its alleged role in covering up sex abuse cases.
8 April: File released on the Rev Paul Shanley, alleging he publicly advocated sex between men and boys and still received the backing of the archdiocese for his ministry.
23 April: Pope John Paul II calls emergency meeting with US cardinals in Rome.
2 May: Paul Shanley arrested in California and later charged on three counts of child rape. He denies the charges.
13 June: US bishops approve "zero tolerance" national policy on abuse, but the Vatican demands changes to protect rights of priests.
17 September: Boston Jesuit priest James Talbot charged with raping and assaulting three teenaged students.
19 September: The Boston Archdiocese reaches $10m settlement with victims of John Geoghan, retracting a previous settlement of $30m which the Church said would have bankrupted the archdiocese.
Paul Shanley
Shanley was convicted of raping at least one boy
3 November: Cardinal Law apologises for "decisions which led to suffering".
13 November: US bishops meet in Washington and approve revised policy on abusive priests which takes account of Vatican concerns.
On the same day, Roman Catholic activists from the Survivors First group launch an online database listing 573 US priests accused of involvement in paedophilia since 1996, later dropping 100 of the names.
3 December: New revelations about eight priests in Boston archdiocese accused of abusing women and girls, taking drugs and supplying drugs in return for sexual favours.
6 December: Cardinal Law leaves for the Vatican, on the same day that he reportedly is ordered to appear before a grand jury investigating sex abuse allegations.
13 December: Cardinal Law resigns as archbishop.
The Vatican has demanded some protection for accused priests
April 2003: The Boston Archdiocese avoids bankruptcy by agreeing to sell land and buildings for over $100m to fund legal settlements to more than 500 abuse victims.
24 August: John Geoghan is killed in a Massachusetts prison.
27 February 2004: A report commissioned by the Church says more than 4,000 US Roman Catholic priests had faced sexual abuse allegations in the last 50 years, in cases involving more than 10,000 children - mostly boys.
1 July: The key accuser of defrocked priest Paul Shanley is dropped from the case by prosecutors.
7 July: In an unprecedented move, the Portland Archdiocese files for bankruptcy because of the huge costs from clergy sex abuse lawsuits.
The action halts a trial of a lawsuit seeking some $155m against the late Rev Maurice Grammond, who was accused of molesting more than 50 boys in the 1980s.
28 September: Prosecutors drop a case against former Massachusetts bishop Thomas Dupre, hours after he is charged with raping two children in the 1970s.
15 November: US Roman Catholic bishops elect Bishop William Skylstad as their new president. His Washington diocese faces bankruptcy due to the volume of compensation claims made by alleged victims of child abuse.
3 December: After two years of talks, the diocese of Orange County, California, settles a sex abuse lawsuit brought by 87 plaintiffs for an unspecified sum. The diocese later says the package is worth $100m (£53m).
7 February 2005: A US court convicts Paul Shanley of four charges relating to offences committed in the 1980s including rape and indecent assault.
June: The Roman Catholic Diocese of Sacramento, California, agrees to pay $35m (£17m) to 33 victims.
August: The Diocese of Oakland, California, agrees to pay $56m (£27.5m) to 56 people.
December 2006: The Archdiocese of Los Angeles agrees to pay $60m (£30m) to settle to 45 cases of alleged sexual abuse by priests.
January 2007: The Spokane diocese in Washington agrees to pay at least $48m (£24.7m) as compensation to people abused by priests.
July: The Los Angeles Archdiocese settles 508 cases of alleged sexual abuse by priests for a record-breaking pay-out of $660m (£324m). The deal is reached just before the scheduled start of a series of trials into abuse claims dating back to the 1940s.
September: The Roman Catholic Diocese of San Diego, California, agrees to pay $198m to settle 144 claims of sexual abuse by clergy".
BBC News
.